Jesus, You are worthy
Jesus You are mercy, Jesus You are justice
Jesus You are worthy, that is what You are
You died alone to save me, Your rose so You could raise me
You did this all to make me a chosen child of God
(How) Worthy is the Lamb that once was slain
To receive all glory power and praise
For with Your blood You purchased us for God
Jesus You are worthy, that is what You are
Perfect sacrifice crushed by God for us
Bearing in Your hurt all that i deserve
Misjudged for my misdeeds You suffered silently
The only guiltless man in all of history
Brenton Brown/Don Williams - "Everlasting God"
Posted by tomglass at
12:24 PM
:)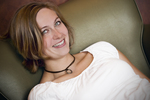 This girl is amazing and beautiful!

Posted by tomglass at
03:38 PM
Spurgeon was a prophet
I love this quote!! Amazing that Spurgeon has such foresight or maybe insight into how God works through His unique and individualistic children as culture and traditions change.
"Do not let us think of limiting the Holy One of Israel to any special mode of action. When we hear of men being led to break out into new ways of going to work (ministering), do not let us feel, 'This must be wrong'; rather let us hope that it is very probably right, for we need to escape from these horrid ruts, and wretched conventionalisms, which are rather hindrances than helps. Some very stereotyped brethren judge it to be a crime for an evangelist to sing the Gospel; and as to that American organ - dreadful! One of these days another set of conservative souls will hardly endure a service without such things, for the horror of one age is the idol of the next. Every man in his own order, and God using them all; and if there happens to be some peculiarity, some idiosyncrasy, so much the better. God does not make His servants by the score as men run iron into molds; He has a separate work for each man, and let each man do his own work in his own way, and may God bless him."
Spurgeon, Bright Days, Dark Nights, 90.
Posted by tomglass at
09:22 AM